Skip to Content
The Montessori Method
"Children must be taught how to think, not what to think." –Margaret Mead
Dr. Maria Montessori, the first female physician in Italy, moved away from the practice of medicine at the turn of the twentieth century and toward the study of education, which was sorely lacking in that time and place. Children were considered to be empty vessels in need of filling by teachers, and little regard was paid to their individual natures or abilities. Dr. Montessori methodically observed the emergence of four planes of development that all children go through, and devised an academic curriculum meant to meet the needs of each sensitive period of growth. The result was astonishing growth in reading, writing and math sense in very young children, considered impossible before the age of seven at that time. This growth was especially telling, considering the children in her school were from families of very modest means, children who were frequently unsupervised all day while their parents worked hard to support their families. Her method, now known as the Montessori Method, has been time tested, with over 100 years of success in diverse cultures throughout the world.
Montessori classrooms are notable for their mixed-age groups of students.  In each three-year class range, your child will work individually and in small groups, naturally gravitating to work partners who share similar interests and skills. Days are structured with a plethora of age-appropriate lessons and activities, and allow each individual to progress at their own pace, moving always toward abstract concepts and logical reasoning.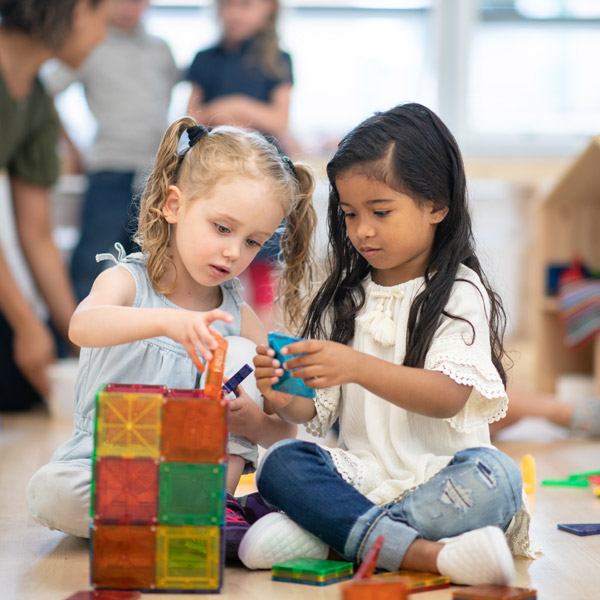 Joyful Learning. Freedom to Explore.
Unlike traditional classrooms where students are expected to sit at a desk and focus on a teacher at the front of the class, Montessori educators, called guides here, are often conspicuously inconspicuous! It has been noted before that sometimes the guide is hard to spot, being frequently down on the floor giving a lesson or presenting a new material. He or she has been extensively trained to observe each and every child to determine how best they learn, and parents are often surprised at just how well their child is known.
We cultivate a community of cooperation and joyful learning. The freedom to explore in a non-competitive environment is balanced by the structure provided by the traditional Montessori materials found in each classroom and the purposeful instruction of the guide. This is what is meant by freedom within limits, an adage of the Montessori Method. Children learn to face challenges with confidence, and begin to find their own place in the world around them.
Personalized Education
Because the learning is individualized, your child can work at their own pace when participating in a mixed-age classroom community. Younger students benefit from example and learn from the activities of the older students. Older students benefit by demonstrating their mastery of a material or topic, building confidence in their abilities, leadership and sense of responsibility. It's not uncommon for a 5th year student to work with 6th years in math, other 5th years for literature circle or a 4th year for geometry. There are no imposed boundaries to keep a child from reaching their full potential, nor perceived shame for not being "where they should be."
All of our Guides are Montessori trained and credentialed, and have years of Montessori classroom experience. This model of teaching provides your child with challenging, individualized instruction with continual support, as well as ample opportunities to develop their growing independence. Please click on each of our classroom pages to learn more about what we do at each stage of development.