Skip to Content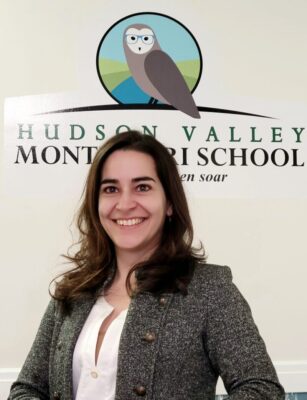 Andrea Barra
Director, Upper Elementary Guide
Andrea has a passion for education and lifelong learning. Seeing firsthand how vital a joyous, supportive environment is for building this foundation, she enthusiastically followed her life path toward founding a Montessori school built upon these tenets. She has a Bachelor of Arts degree in Psychology and Sociology from Stonehill College, a natural fit with education and the Montessori philosophy, as the development of each child benefits greatly from careful observation and thoughtful instruction. She holds Lower Elementary and Upper Elementary Montessori Credentials and is MACTE certified.
Her first career as a furniture maker in Mid-Coast Maine utilized calm and patience, attention to detail, and appreciation for the exquisite details of our surroundings. Andrea loves to unite creativity with learning and brings elements of woodworking into the classroom when possible, such as through marquetry, soap carving, and tool use. Knitting, crochet, and fiber art are other hobbies of hers that she loves to introduce in school. When not making or learning something new, she is finding ways to bring it into the classroom. She enjoys spending time with her sons and family, and being outside as much as possible in their garden.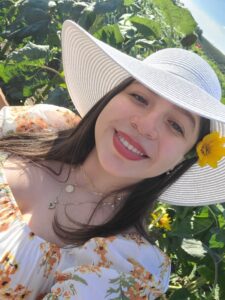 Cinthya Cruz
Elementary Assistant, Spanish
Cinthya is the youngest child out of four and is a first generation born in the United States of America. She was raised by two very hardworking parents, her father from Comayagua Honduras and her mother from a small town in Honduras called Santa Cruz de Yojoa. Inspired by her teachers growing up Cinthya continues striving to make a positive impact in the lives of the children she teaches. She is currently attending Lehman College in Bronx NY majoring in Sociology with a minor in Childhood Education.
Before joining the Montessori team at HVMS, Cinthya brought her passion for teaching to her previous summer camp job by taking up the role as the K-2nd Art teacher, as well as an after-school teaching assistant position in NYC. Cinthya creates a warm and welcoming classroom environment everyday while teaching her students Spanish and the diverse cultures of various Spanish speaking countries. On her time off she enjoys spending quality time with her family, friends and her two furry four-legged companions, Teddy and Scruffy.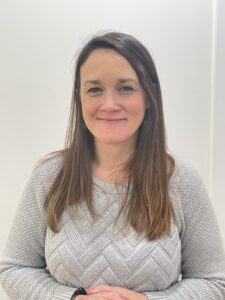 Marissa Smithem Brown
Primary Guide
Marissa has a sincere passion for working with children and building their confidence, not only within education but the outside environment as well. She very much believes that by building a safe environment for children to learn and grow, it will enable them to thrive in all areas of development. She holds a Bachelor of Science degree in Education from SUNY Fredonia where she also studied music. She continued to pursue graduate education at the College of New Rochelle, studying Early Childhood and Montessori Education. She gained her Montessori certification at the Primary level with the Center for Montessori Education/New York. 
When not in the classroom, Marissa enjoys spending time with her family outdoors. She likes to fish, camp, and play sports such as softball and volleyball. Her main goal as a teacher is to bring each child just a little bit further each day in their learning and development. She believes that Montessori education provides a space for children to become advocates for themselves and take charge of their own individual learning. Establishing this type of mentality at a young age provides children with unique tools to use in the future.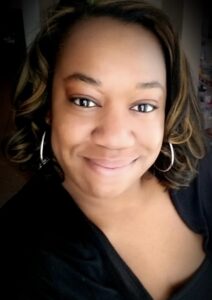 Symone Wallace
Primary Assistant, Special Education
My name is Symone Wallace. I am a Special Education Teacher. I have my Bachelors in Elementary and Special Education and will soon to have my Masters in the same field. I am also enrolled in the leadership initiative program of New York State. I have worked in education for seventeen years. I started out as an classroom aide and worked my way up to an Assistant Director. The wonderful thing about education is that there are always new methods, techniques and strategies to learn. Hence my employment at Hudson Valley Montessori School. I enjoy learning new things and classroom techniques. I have three great mentors to learn from (Ms. Barra, Ms. Kate and Ms. Marissa). Along with my love of learning, I also enjoy reading, the beach, Disney villains, video games, singing and music, building and creating, and spending time with my family (my daughter and my husband).
Consuelo Barra
Office Manager
I was born in Colombia, South America, and emigrated to the United States to pursue a college education. I graduated from Cornell University, with a Bachelor of Science degree. Later on I took many courses in management, including one from Purdue University focusing on HR and finances.
While at Cornell, I met and married my husband Michael, a veterinarian. After graduation I worked at Yale Medical School as a Research Assistant. In the 1970s we purchased Tweddle Animal Hospital in Middletown, NY, and from 1986 to 2014 I acted as the Practice Manager. I saw the expansion and name change to Ani-Mall Pet Hospital. I bring all of this experience to my current role of Office Manager at Hudson Valley Montessori School.  My greatest joy is my family: my husband Michael, our 3 wonderful children, Michael, Monica and Andrea, as well as our 5 grandchildren. I'm thankful and cherish the gift of participating in their lives.