Skip to Content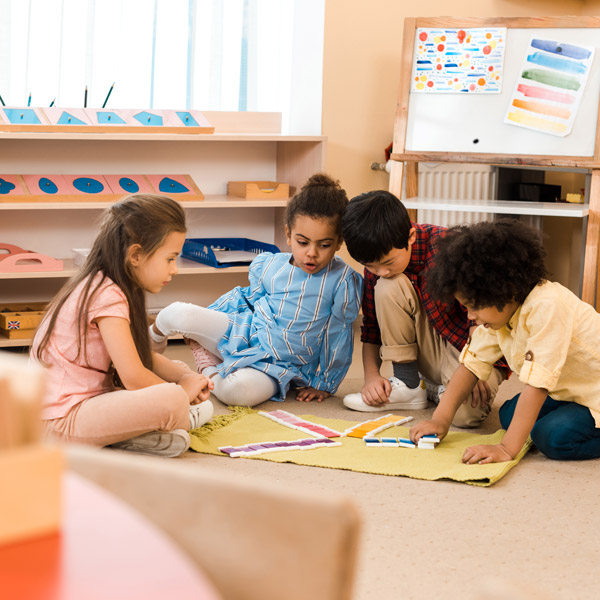 Primary Program – Ages 3 to 6 Years
Our primary program is led by Montessori-credentialed guides using a full complement of Montessori materials in a classroom designed to offer a choice for hands-on exploration following each child's interests, learning style and pace. We provide a balance of encouraging independence and concentration along with building positive social skills and relationships within a group. Children are exposed to individual, small group and large group activities that allow them to grow their minds, strengthen their bodies and develop confidence in their growing mastery of skills and knowledge. Each child's natural development is followed, and children are given the structured freedom to work at their own pace and pursue their own love of learning.
Parents are often surprised to see the calm environment of a Primary classroom. Children are engaged purposefully in a wide variety of activities and materials that captivate their attention. Your child will learn to work with a high level of concentration, free from interruptions, and enjoy the peaceful, homelike community of the classroom. Students in a Montessori classroom are excited to learn, self-motivated and engaged.
Curricular areas include Practical Life, Sensorial, Language, Math, and Cultural Studies, Geography, Science and the Arts.
Practical Life
Practical Life activities teach skills that promote independence and a sense of accomplishment, tasks that help your child care for themselves, others and the environment. The activities are simple, concrete exercises that incorporate some of the daily routines your child has already witnessed at home. They will polish objects, prepare food, pour liquids, wash tables, sweep, as so on. The work not only provides real-life experience that will promote independence and self-confidence, but also grows coordination, fine motor skills, self-control, concentration and the social skills children will need for other work in the classroom.
Sensorial
Young children learn about the world around them through constant observation and the use of all their senses. The Sensorial materials and activities are designed to develop cognitive skills and help children refine their senses by classifying and ordering materials by touching, seeing, smelling, tasting, listening and exploring all the physical properties of their environment. By manipulating sensorial materials, such as the Color Tablets or the Pink Tower, children increase their powers of observation and deduction, broaden their vocabulary, and build a solid foundation for later understanding of formal educational concepts.
Language
Language development is a crucial factor of all human development. The language materials used in the Primary classroom are based on a methodical phonic approach to writing and reading. Initially, children will link sound to symbol by tracing cursive sandpaper letters with their fingers while being told the phonic sounds. Soon, they begin writing simple words with the moveable alphabet, matching words with objects, reading their first three-letter words, and then reading simple books. The last stage of reading is the introduction to early grammar, comprehension and creative writing. The Montessori classroom is rich in language opportunities, and children also experience conversation, poetry and storytelling.
Mathematics
The Montessori Primary classroom is filled with tactile materials that help your child understand relationships in the environment and be able to express them in abstract terms. Your child will begin to build their understanding of math concepts by manipulating concrete materials, learning to count, associating quantity and numerals, and gaining a sensorial impression of the decimal system. Once they have experienced a concrete practice of basic math operations with materials, they begin to move toward abstract understanding of mental calculations and solving simple equations.
Cultural Studies
Cultural Studies form the spine of any Montessori curriculum, and provide a foundation for your child to learn about the world around them. The integration of disciplines brings an awareness that everything in the universe is connected, and all components depend on one another. Geography, Biology, Botany, Zoology, Art, Music and History are presented as extensions of language activities, and are integrated into the environment as part of the curriculum—as opposed to being a separate, "special" activity or work time.